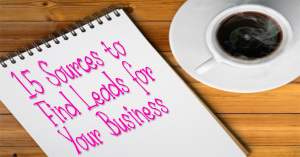 One of the top reasons I usually get from people that continue to struggle in building their homebased business is that they just can't find people to connect and set up a meeting with.
In this post, I've put together a list of 15 online and offline resources where you can find leads regardless of what kind of homebased business you're building. Most of these you can do for free. There are a couple here where you may need to pay, but the amount is very minimal so you can still do this even if you're working on an extremely tight budget.
Is It Really Difficult to Find Leads?
As you will see in a bit, it's really not that difficult to find leads. But why is it that lots of people struggle with finding leads for their homebased business?
I believe that there are 3 reasons why many homebased business owners find it so hard to find leads. First is their lack of belief. If you personally have doubts on your MLM company or any type of home business you're involved in, your prospects and potential clients will sense it because it shows in your posture. If you aren't fully convinced with what you're going to offer to them, why should they?
Second is being addicted to the outcome. This is especially true among network marketers. Far too often, they begin playing in their minds how their prospects will respond after they present their opportunity. Usually, these scenarios are negative. In short, they have already talked themselves out of even trying to approach their prospects way before they even try.
Lastly, many homebased business owners often confuse prospecting with marketing. Simply put, marketing is putting up some type of ad out there with the hopes that someone would become interested in this, and reach out you. Prospecting, on the other hand, is actively talking to someone on a one-to-one basis, whether online or offline. A lot of homebased business owners spend a great deal of time on marketing, and practically very little time doing actual prospecting.
15 Places to Find Leads for Your Homebased Business
Photo credits: ImageryMajestic, FreeDigitalPhotos.net

Your Cellphone. This may be quite an obvious and no-brainer source to find leads. But honestly, how many of the contacts in your cellphone have you actually reached out to and asked if you can meet up to show them your business opportunity?

Your Warm Market. Another quite obvious source to get leads for your homebased business. Surprisingly, many homebased business owners out there, especially those who are involved in network marketing are petrified of approaching their warm market because of their fear of being rejected.
Warm Market Referrals. This is where I got a lot of leads when I first started out building my MLM business. Most of the time, your warm market–that is, your family, relatives, and friends–may not want to join you in your business. However, they might know some people that may be interested to try out any of your products or services, or even may want to partner with you in your homebased business.
Facebook. As of March 2015, there are about 1.44 BILLION active users on Facebook, making this probably the best source to find leads for your homebased business. Here, you can connect with your friends and relatives even though you don't have their contact number or haven't spoken with them in decades. There are also different interest groups within Facebook that you can join, giving you the opportunity to connect with people that are not within your immediate circle of friends and relatives.
Twitter. Next to Facebook, Twitter is the most populated social media platform at any given time. You can find leads for your homebased business here by doing a search on the hashtags used. For example, if you're in a health and wellness MLM company and are looking for people who want to lose weight, you can do a search by typing in #loseweight in the search field. Twitter will then show you a list of those people that have used this hashtag and how long ago they sent that tweet out, making it easier for you to connect with them on a real-time basis.
Google Plus. Compared to Facebook, Google Plus is a lot "quieter," but it's also less restrictive in that it's easier to join communities and reach out to people here. There are also not too many changes being done as well in Google Plus so you don't have to always be on your toes about doing something that could get you banned here.
LinkedIn. This is one of my personal favorite social sites to go when looking for leads, particularly those that I would like to partner with in my business, even though it is one of the least used social media platforms. That's because there are generally two groups of people that go and use LinkedIn: those that are looking for work and those that are looking for people to work with. In other words, the leads that you'll be getting here have already been pre-qualified, making it a great place to look for free leads, especially if you're a freelancer looking for clients.
Job Fairs. Just like LinkedIn, people that usually go to job fairs are jobseekers and those that are looking for an opportunity to change careers. Because they already have a mindset of being open to opportunities when they go to these job fairs and expos, it's much easier to approach them, connect with them, and see if they are open to yours.
Meetup.com. Meetup.com is a site where you can find all the different workshops and networking events within your area that you can attend, and personally connect with potential prospects and clients for your homebased business.
Craigslist. Just like with community bulletin boards, there are two ways on how you can find leads for your homebased business here. First is that you can post a catchy ad here for others to get to know more about your business. Second is that you can go through the other ads that have been posted here for people offering their services that you can potentially partner with in a venture for your homebased business.
Search Engines. Search engines are a great tool for finding free leads for your homebased business. Just simply type in the search field the type of people you want to prospect followed by the city you're currently located in to get a long list of potential prospects that you can connect with.
Community Bulletin Boards. Another great place to find free leads for your homebased business is to take a look at the community bulletin boards scattered around the area, like those in coffee shops, and supermarkets. Aside from posting an ad there for people to learn about your homebased business, take some time to take a look at those other ads posted for events and individual people that are also advertising their services that you can reach out to.
Community Newsletters. In addition to giving you the latest news on what's happening in your community and an opportunity for , these newsletters also run a few ads for establishments within your area that you can reach out to, connect with, and potentially partner up in your homebased business ventures.
Text Message Ads. Have you gotten those text messages on your phone from real estate brokers and insurance agents that are inviting you to one of their open house events? Well, the next time that you get these text messages, don't just automatically delete them. These make really great leads. Why? Because the people that are sending these are resourceful and don't mind getting rejected and if you're in an MLM business, these are the kinds of people that you'd like to have in your team. So reach out to them and see if they will be open to your business opportunity.
Cork Boards in Coffee Shops. If you spend a lot of time in coffee shops like I do, you'd probably have noticed some of them having cork boards where guests are free to add stuff there. Some guests leave notes of thanks while others leave ads and even business cards. Add yours onto the cork board and get the contacts of those that left theirs there.
Do you have any other favorite go-to places for finding leads for your homebased business? Share them in the comments below. If you've also found value in this post, feel free to tell your team about this.

Comments
comments