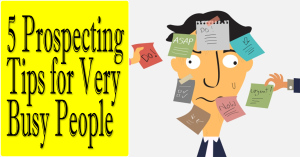 One of the biggest stumbling blocks network marketers and small business owners face is prospecting customers and business partners amidst their busy schedule. Their reason? There just really isn't enough hours in a day to accomplish their tasks at work and with their family, let alone be able to squeeze in time to talk to their prospects.
Here are 5 ways you can prospect people, set up appointments, and still time to attend to all your responsibilities at work and at home.
1. Set a Daily Goal
The reason why many part-time network marketers and small business owners don't have time to prospect new customers and business partners is because they don't plan for this. In the words of Benjamin Franklin, "if you fail to plan, you plan to fail" (Click Here to Tweet). 2-3 people a day is a good number to set as your daily prospecting goal. You can check out my post on goal setting to help you set your prospecting goals each day.
2. Make Your List of Prospects
Having a ready list of prospects to contact helps you in 2 ways. First, you don't have to waste time to think of who you would be contacting for the day. A prospect list also helps you keep track of the people that you've already contacted so that you can followup with them in a timely manner.
3. Use Text Messages When Prospecting
These days, people prefer communicating through text rather than talking over the phone. It's also a quicker way to reach your prospects than actually calling them. Just take a look at this infographic below:
When using text messages for prospecting, avoid using shortcuts. Not only is it very informal. It also leaves room for your prospect to misinterpret your messages. Also, make sure that you go straight to the point when sending a text message to a prospect. Here's one text message I frequently use when setting up a meeting:
"Hey (their name)! How you've been? Just wanted to check if you're free on (day) at (time) since I'll be in your area and there's something I want to run by you. Let me know."
4. Maximize Your Breaks
Instead of checking out the latest gossip with your friends, use your break times as opportunities to get in touch with your prospects, especially during lunch time because chances are your prospects are on break, too, and it helps get rid of the possible "I'm too busy to talk right now" objection.
5. Stay Committed
Above all, make a decision to remain consistent and committed to prospect every day. Eventually, these small steps will add up. Think about it: if you talk to just 2 people consistently each day, you would have prospected 60 people by the end of a month!
Did you find value in these tips? If so, leave a comment below and share this post to all of your friends and team members that are building their business part-time.
PS. If you'd like to learn more about prospecting, click here to grab a copy of my Home Business Skills Cheat Sheet.
Infographics embedded from Visually
Comments
comments